News
Urban & Contemporary Art at Campaigning Bureau in Vienna
06.05.2023, 7:52
On April 28th, Feromontana was part of the Urban & Contemporary Art Pop-Up Exhibition at the Campaigning Bureau in Vienna. The Exhibition was organized by Bakerhouse Gallery and featured around 60 Artworks from 10 Artists including Tom Lohner, Takashi Murakami, Shepard Fairey, Jörg Döring, Josef Florian Krichbaum, Julia Hanzl, Monsieur Shabernack. The Exhibition was located in the amazing Icon Tower next to the Vienna central train station on the 21st floor. The Campaigning Bureau office, which was named office of the year 2022, offers spectacular views of Vienna and was the perfect location for a unique pop up exhibition.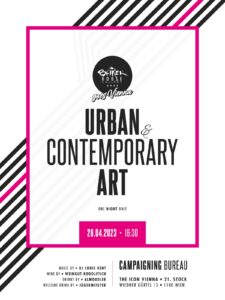 Here you can find the Facebook picture gallery from Bakerhouse Gallery.
Here you can find all the currently available Feromontana Artworks.